Small Batch Box
Regular price

Sale price

$ 60.00
Each month we make a special limited edition small batch flavor to include in our monthly subscription club; Mānoa Monthly. These bars are made exclusively for our members, with the majority of them never to be made again (regardless of how delicious they are).
This is our opportunity to be creative as makers and try new things. In our quest for fun and flavor some turn out winners and others, maybe not. The beauty is that you get to decide!
We have put aside a small quantity of six of this year's flavors in order to create this exciting box of chocolates. If you're a member, this is your chance to re-visit long lost flavors, or even better, send a box to a friend or family member with an adventurous palate. If you're not a member, now is your big moment to surf the exotic wave of flavors that is Mānoa Monthly.
melt-free guarantee

We ship all orders via two-day FedEx and treat your order with the utmost care so that it arrives in perfect condition.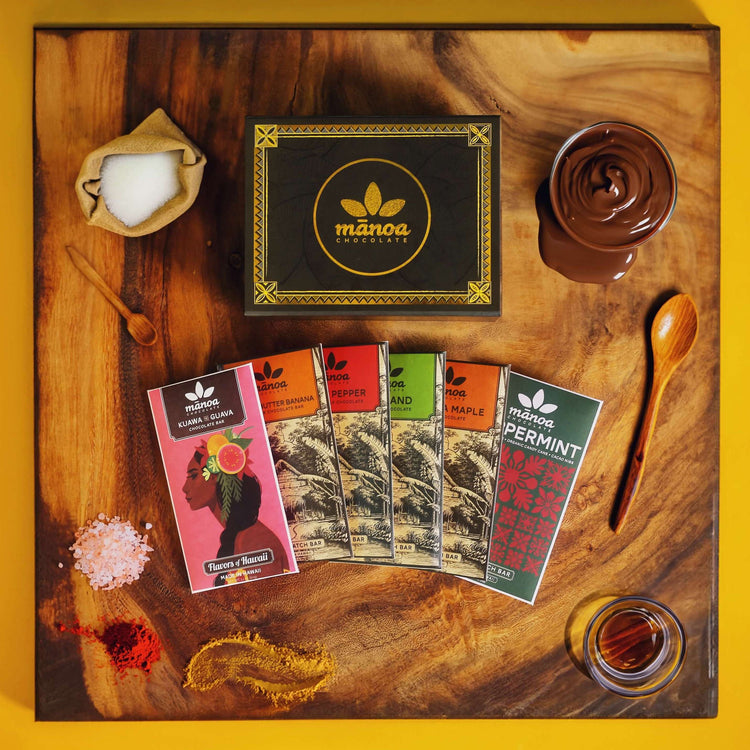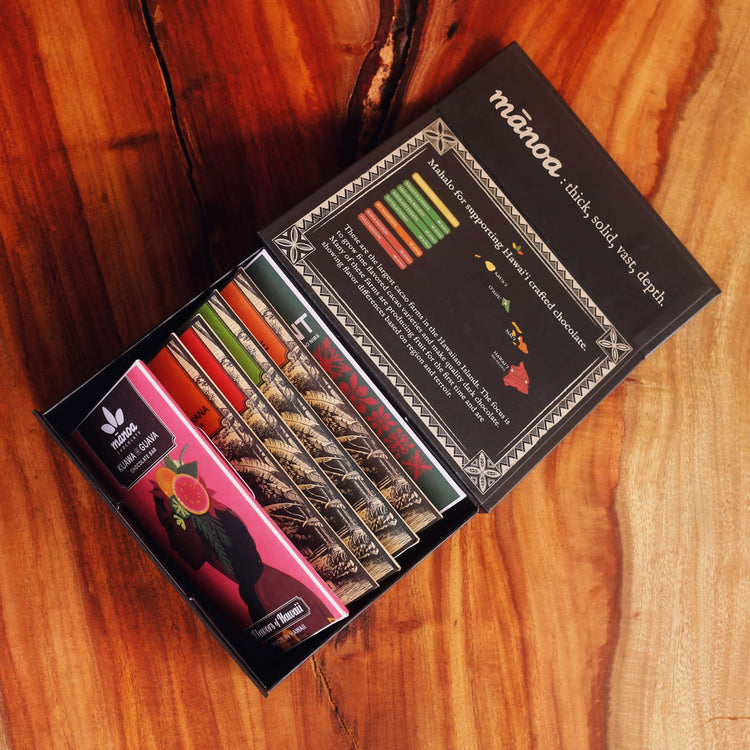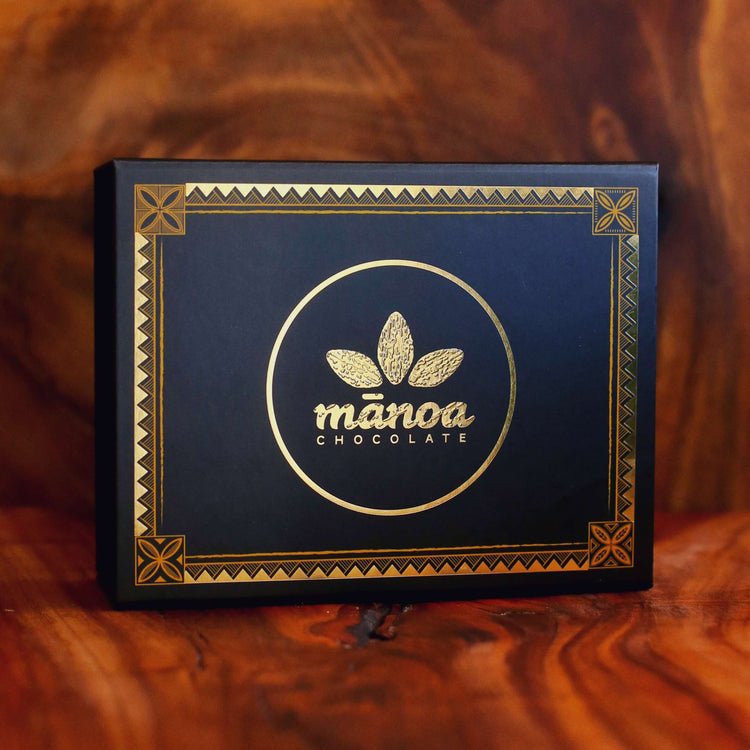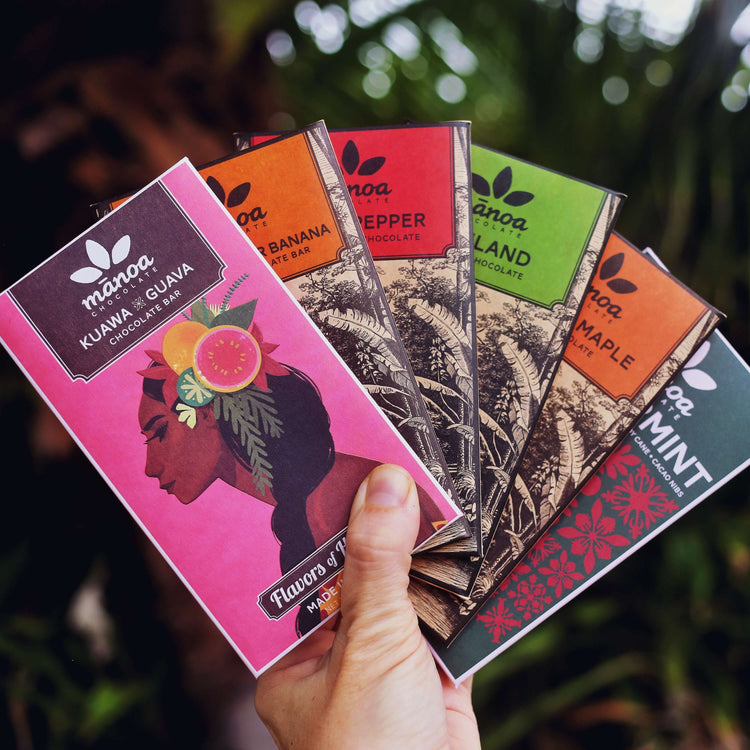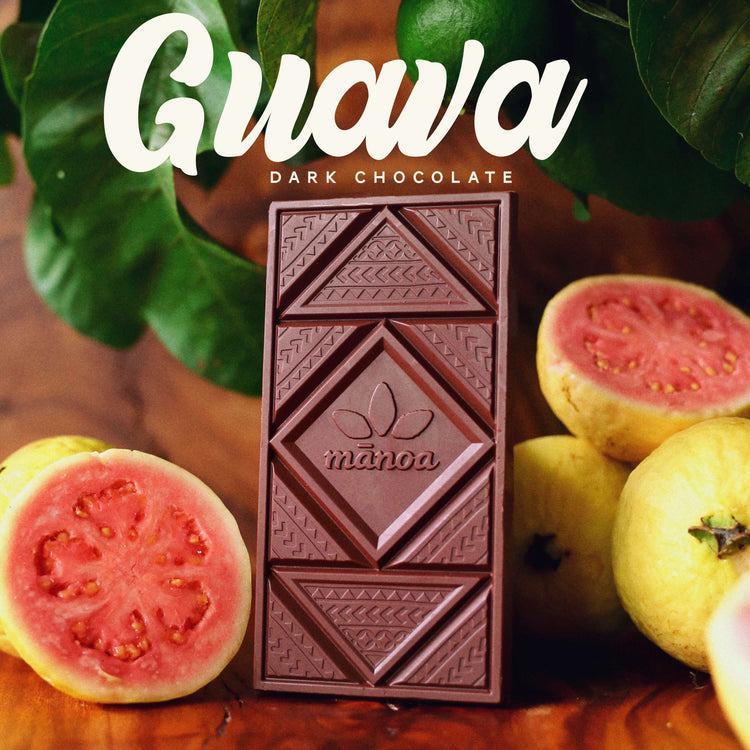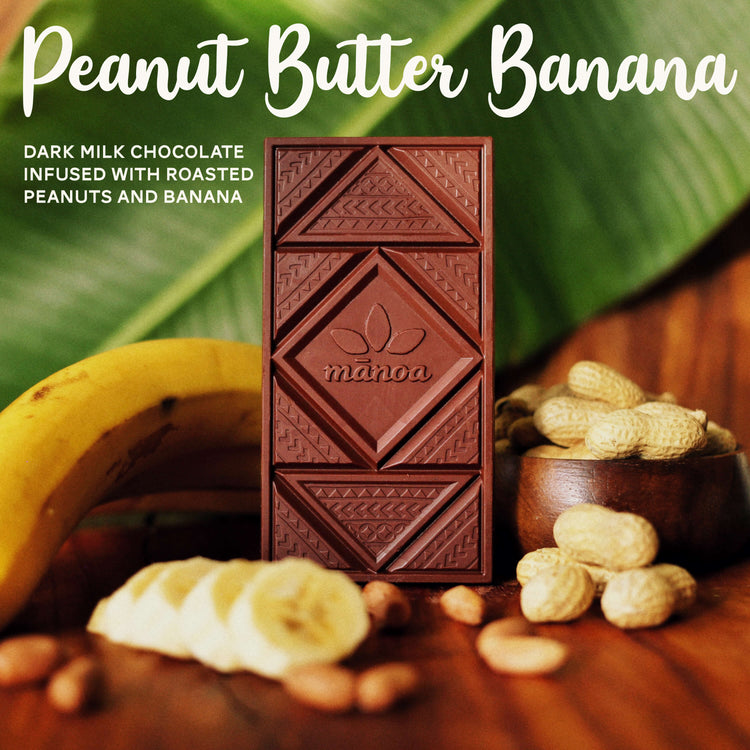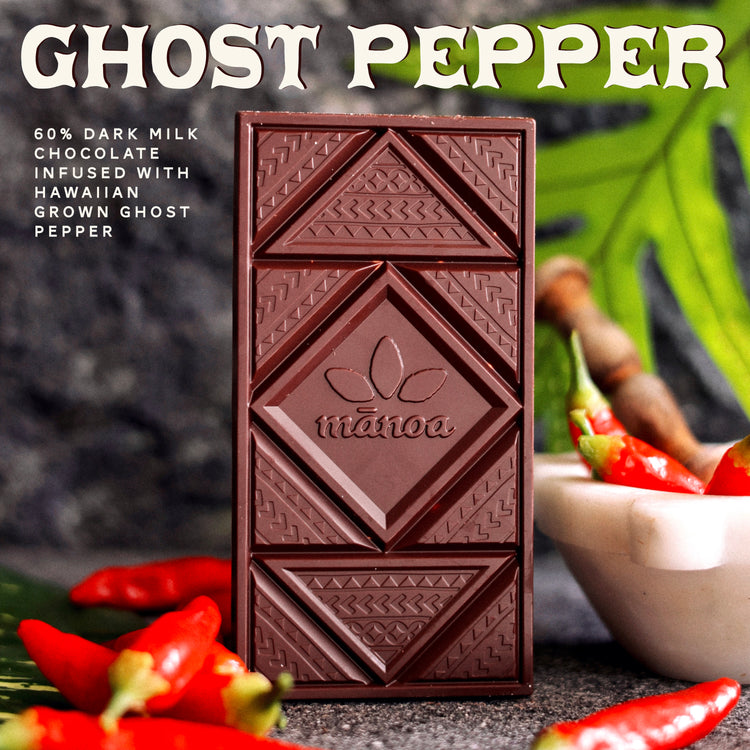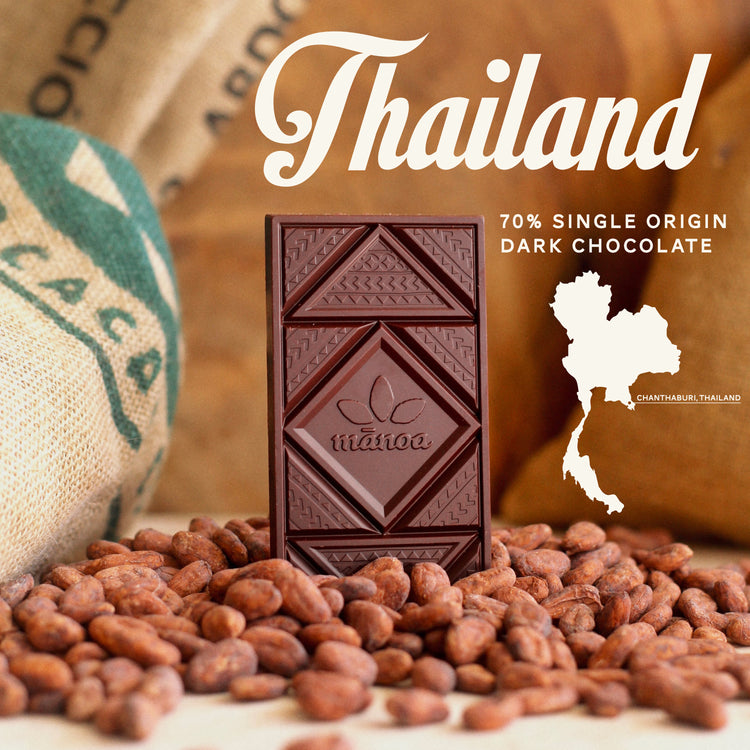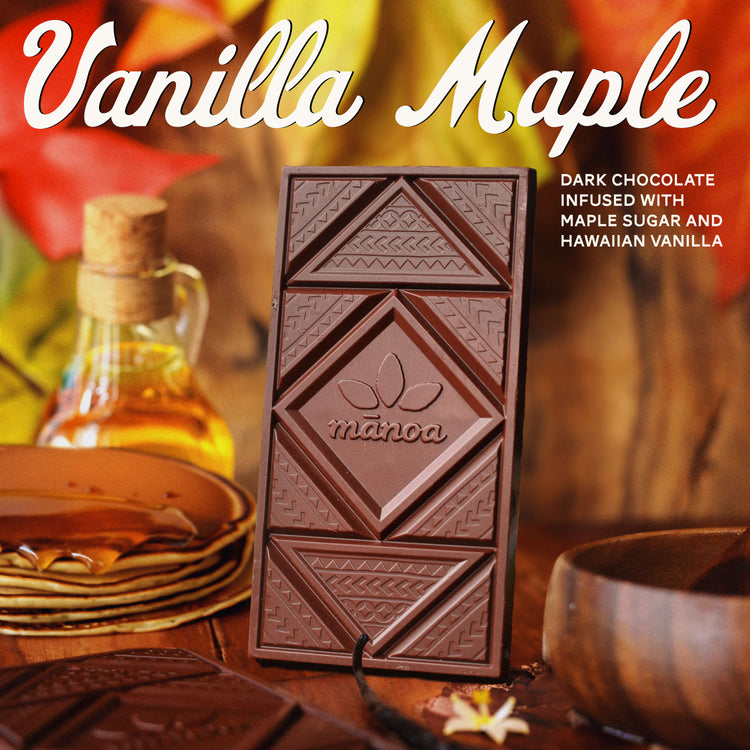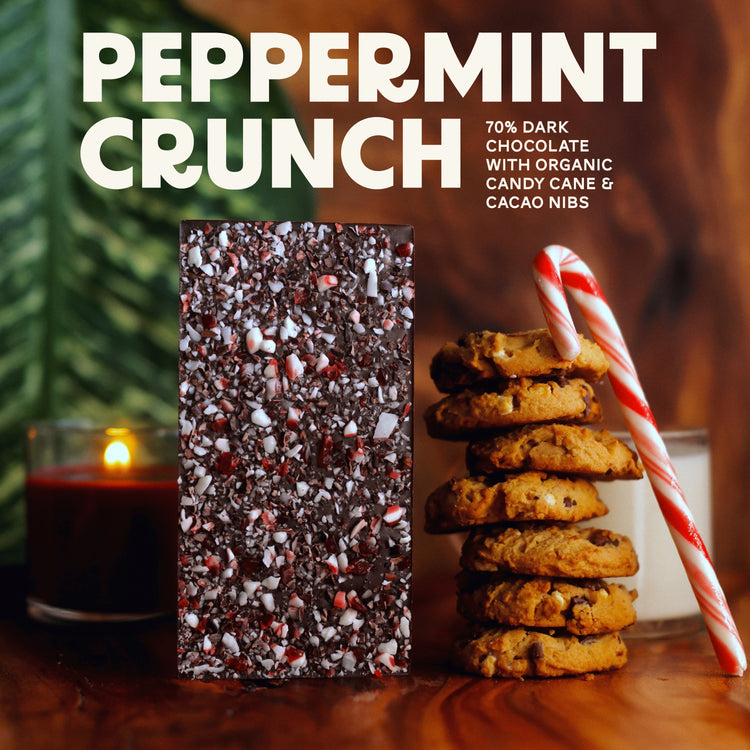 included in this collection
ghost pepper

The Ghost Pepper Bar was a part of our permanent collection for many years. Out of all of our previous flavors that have gone to the grave, Ghost Pepper's revival gets requested the most. Hawaiian grown ghost peppers create a gentle tingling spice that pairs exceptionally with creamy dark milk chocolate.

vanilla maple

Vanilla Maple is a dark chocolate made with Hawai'i grown vanilla from Laie Vanilla Company and maple sugar from Branon Family Maple Orchards! It was such a pleasure working with these spectacular ingredients from small family run businesses. You can taste the love they put into their products.

guava

Guava's flavor is uniquely tart and sweet—commonly described as a hybrid between a strawberry and a pear. In Hawai'i the fruit is predominately consumed fresh, in the form of juice, and in jellies and jams. Paired with our dark chocolate, it makes for a rich, fudgy and gently fruity bar.
Peppermint crunch

Peppermint Crunch is as tasty as ever and featuring 100% organic, crushed candy cane and cacao nibs. A great addition to Santa's milk and cookies!

peanut butter banana

We initially made Peanut Butter Banana with whole peanuts sprinkled on the back. The only issue being that the peanuts started falling off the back of the bar. And thus we had to find a creative way to remake the chocolate. The solution was grinding the peanuts directly into the chocolate, which ended up improving the recipe as a whole. The rich creaminess of peanut butter combined with sweet banana make for an excellent pairing to this fudgy dark milk chocolate.

thailand

Earlier this year we visited a cacao farm in Eastern Thailand. In the small agricultural town of Chanthaburi, this operation buys freshly harvested cacao from many farms in the region and centrally ferments and dries at their facility. We filled our suitcases with just enough cacao to make a batch exclusive small-batch.
LEARN MORE ABOUT OUR SUBSCRIPTIONS
made in hawai'i
All of our chocolate is crafted from bean-to-bar at our chocolate factory in Kailua, O'ahu.
direct trade cacao
We're buying cacao direct from the farmer. This allows us to establish long lasting relationships based on trust and quality. By cutting out intermediaries we can also pay our farmers higher prices for their crop.
sustainably packaged
Each chocolate bar is packaged using recycled paper and wrapped in a biodegradable plant-based fiber