CHOCOLATE BARS INSPIRED BY THE FLAVORS OF OUR HOME
CHOCOLATE BARS INSPIRED BY THE FLAVORS OF OUR HOME
Hawaii is famous for being one of the most isolated places on the planet. We're right in the middle of the vast pacific ocean, acting a bit like a bridge between the east and the west. To conceive of our new collection, we didn't need to go any farther than our local farmers market to find inspiration
Whether it was brought here by the ancient Polynesian settlers as a canoe plant, or as a commodity by traders from the East and West, each ingredient comes with its own unique story and relevancy to Hawaii's society and cuisine. This set is a celebration of classic Hawaii flavors married with the finest cacao, providing a one-of-a-kind taste experience. Each flavor tells a story of our history and connects our taste buds to the paradise that is home.
THIS FIVE BAR BOX INCLUDES: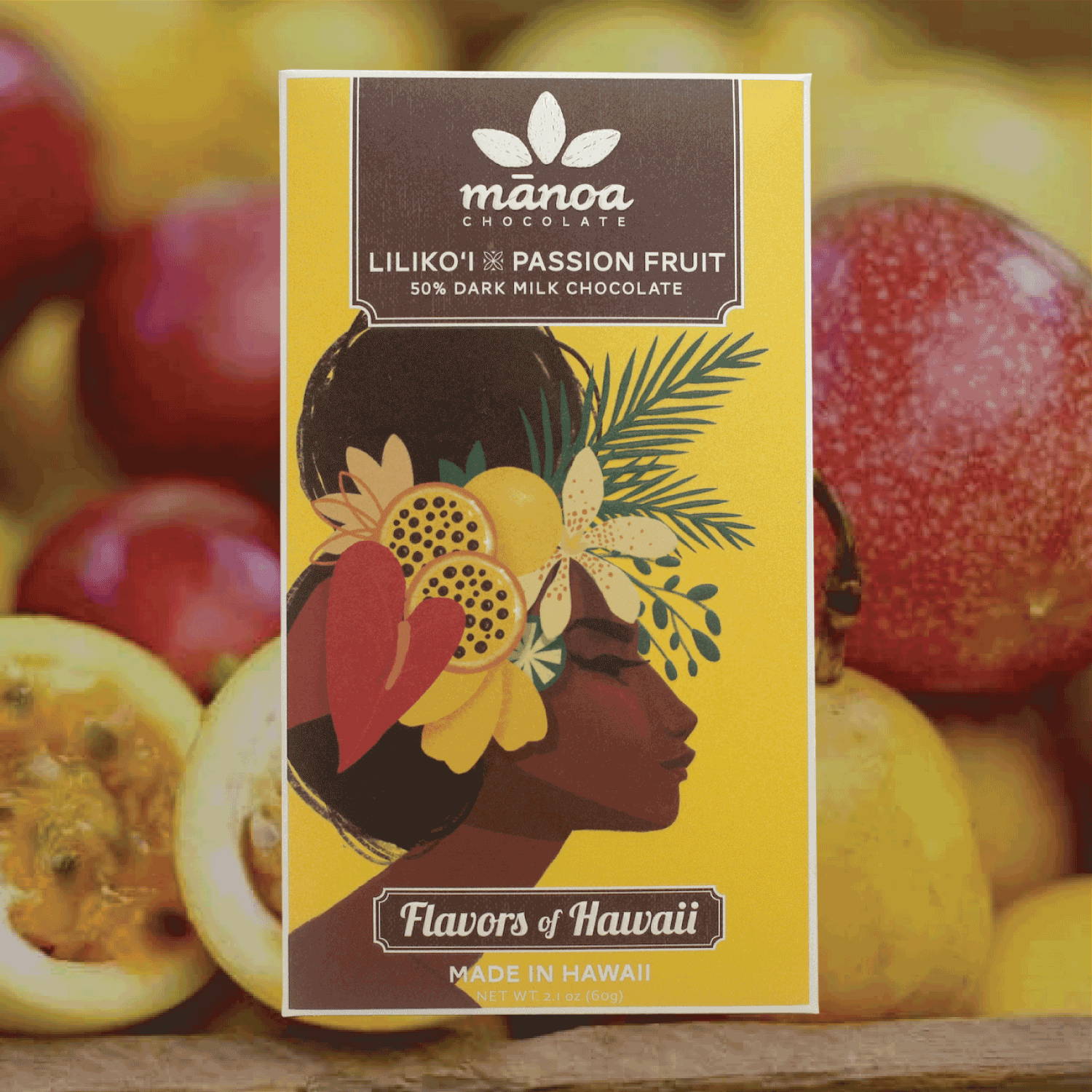 LILIKO'I x PASSION FRUIT
55% Dark Milk Chocolate
When the seeds of passion fruit first came to Hawaii from Australia in 1880, they were planted in the East Maui district of Liliko'i and the name stuck. Inside, the fruit is filled with an aromatic mass of juicy pulp and edible seeds. The juice, with its distinct tangy flavor, is a popular ingredient in Hawaiian cuisine, used to make sauce, candy, ice cream, tea, or in cocktails and shave ice.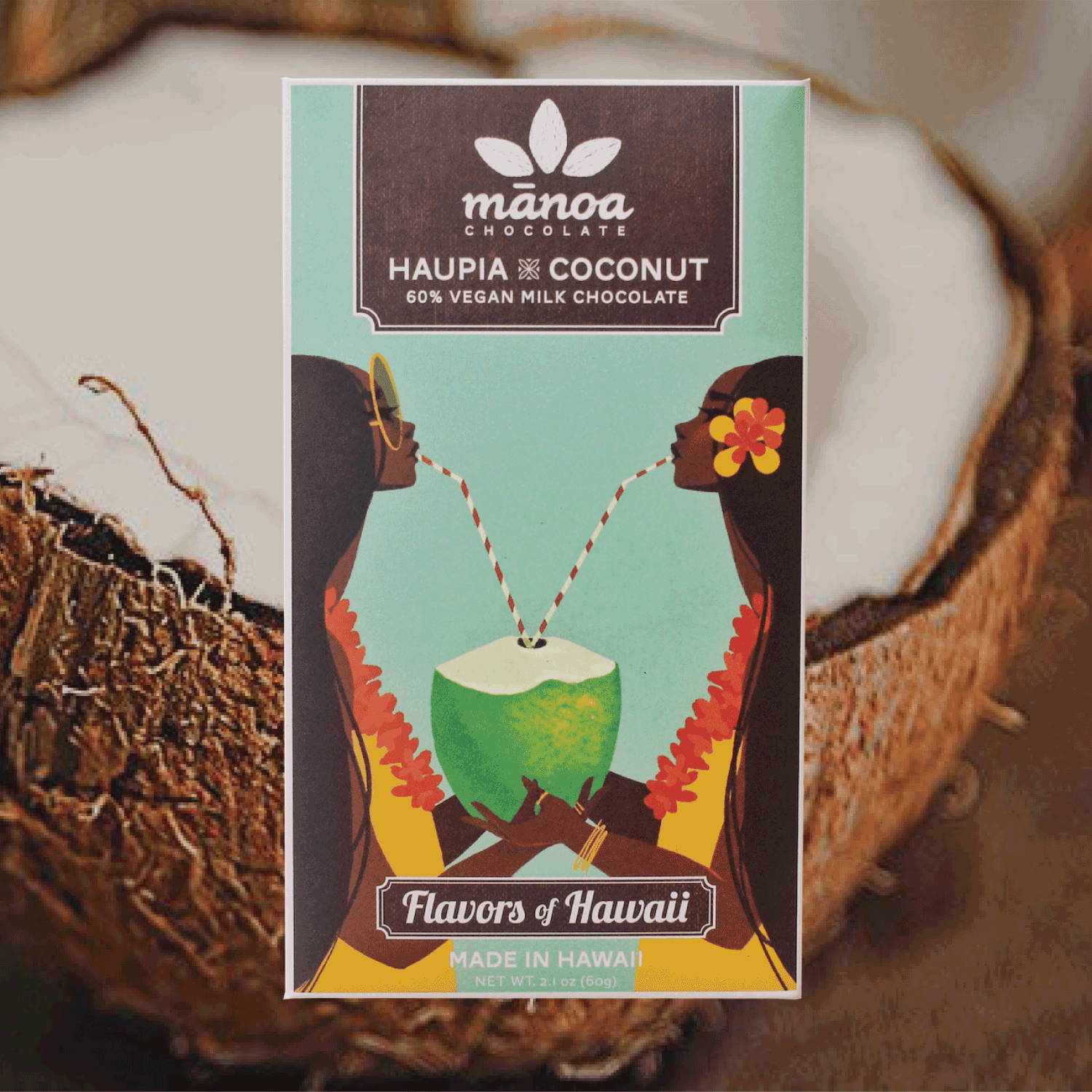 HAUPIA x COCONUT
60% Vegan Milk Chocolate
The Polynesians settlers brought coconut on their long voyage to Hawaii. It is known as a canoe plant - a crop essential for island living. The coconut provided a source of food, water, and useful crafting material. The Hawaiian word for coconut is niu, but the title of this bar "Haupia," refers to the popular Hawaiian desert made using the white meat of coconut fruit.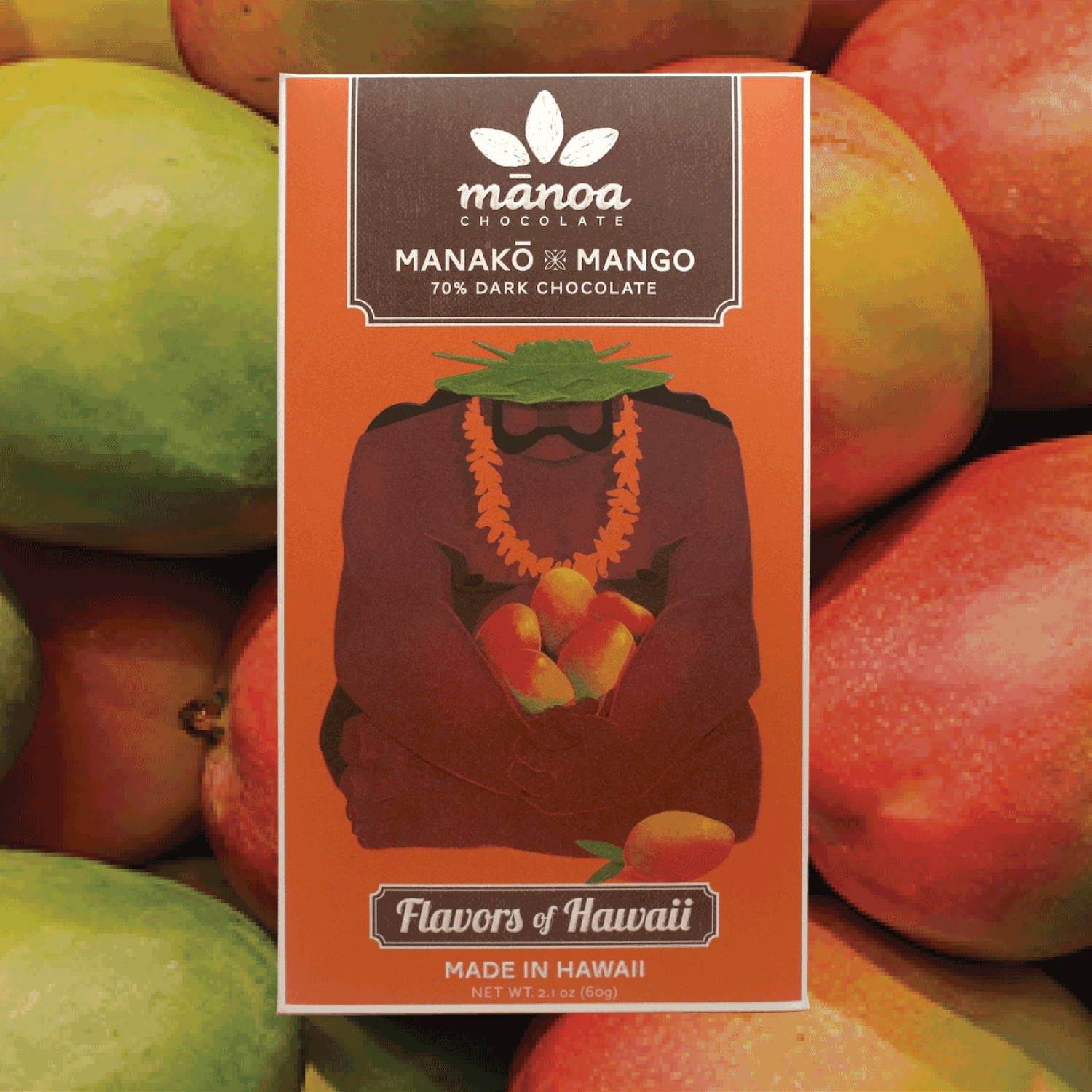 MANAKŌ x MANGO
70% Dark Chocolate
Historical accounts suggest Mangoes first arrived in the Hawaiian Islands before 1825. In Hawaii the fruit thrives with over 500 varieties across the islands! Mango season is a highlight of summer in Hawaii and brings a pleasant sweet to the heat. It is widely consumed fresh or preserved through pickling, chutney, and sauces.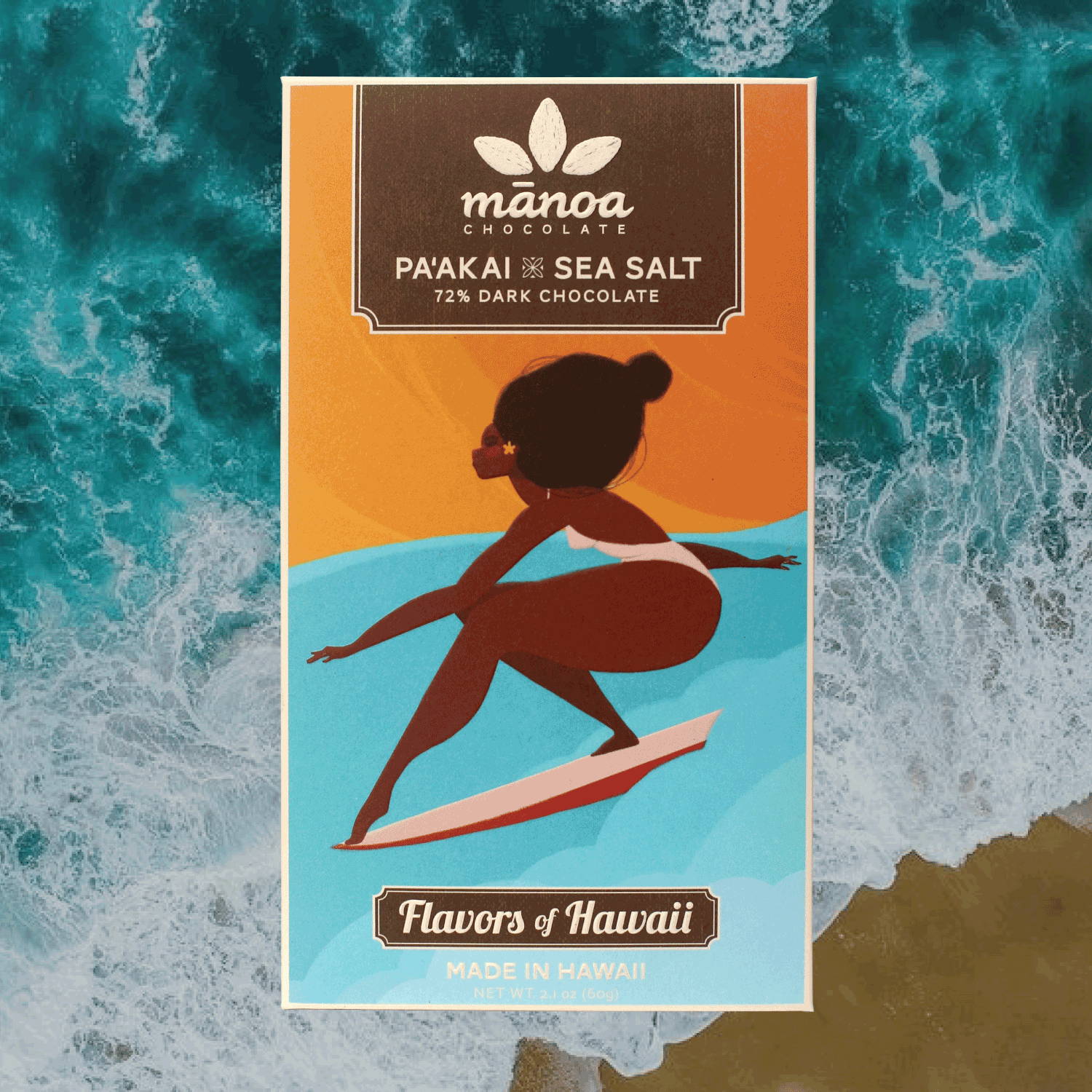 PA'AKAI x SEA SALT
72% Dark Chocolate
In ancient Hawaii, pa'akai (sea salt) was used in food preservation, religious & ceremonial purposes, and as medicine. Pa'akai was collected from rocky shoreline pools, and on a larger scale Hawaiians harvested salt from man-made clay ponds; a method still practiced today.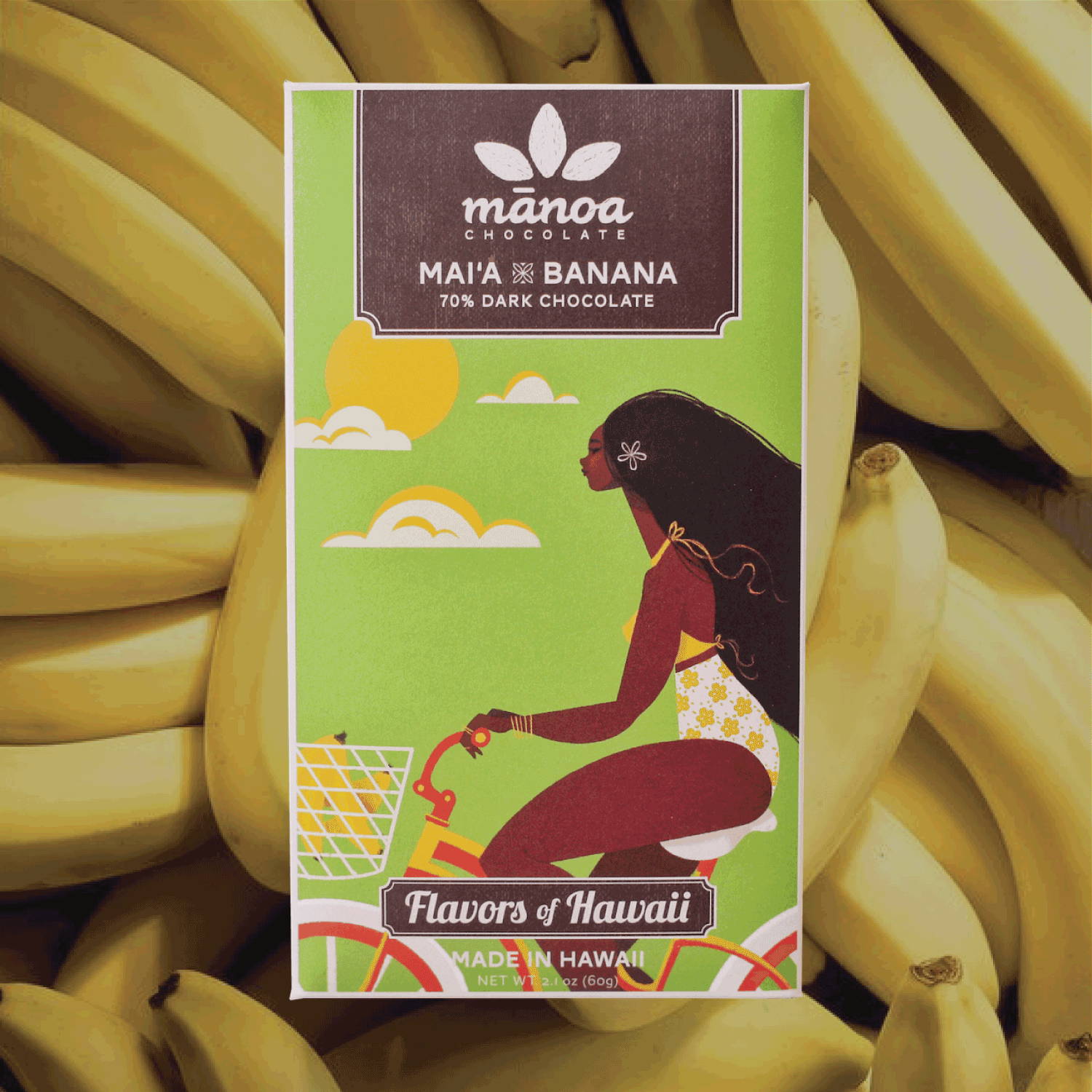 MAI'A x BANANA
70% Dark Chocolate
The Polynesian settlers brought with them mai'a (banana) on their long voyage to Hawaii. It is known as a canoe plant - a crop essential for island living. Not only was mai'a used as sustenance, but as an offering to ali'i (ruling chief), a highly regarded gift, and as medicine for various ailments. Fruit was scarce in ancient Hawaii and banana was one of only a handful available.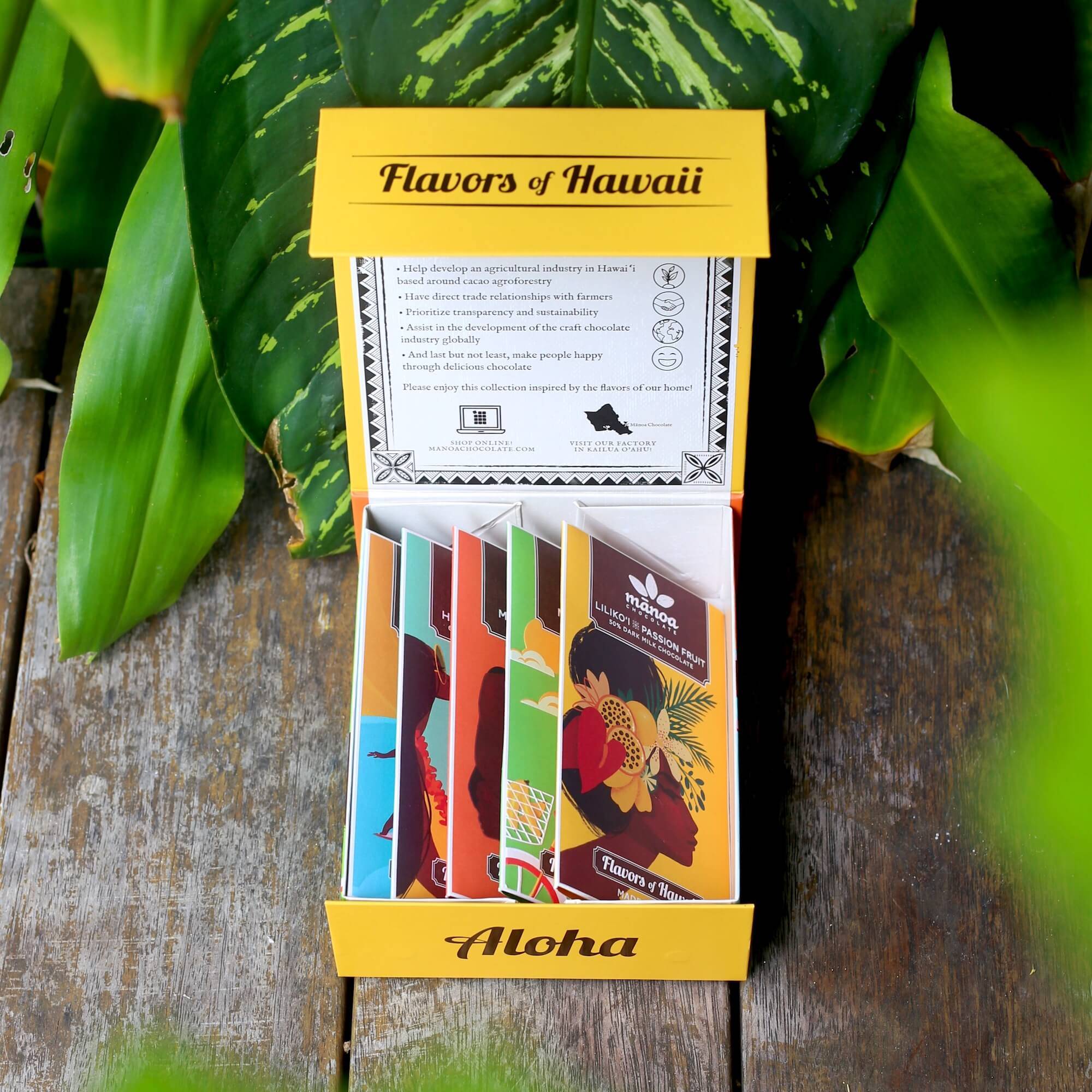 SHIPS IN A BEAUTIFUL GIFT BOX
Shar Tuiasoa of Punky Aloha Studio was born and raised in Kailua O'ahu (the same town as our Chocolate Factory!). When we decided to collaborate with a local artist for this collection, Punky Aloha was at the forefront of our minds. Her art's bright color, bold lines, and beautiful Polynesian influence made for an exceptional compliment to this collection of exciting Hawaii inspired flavors. Shar's ability to authentically capture the beauty and vibrancy of our home's culture, scenery, and people is garnering her international attention. Her work can now be found everywhere from the New York Times to her very own children's book.