It's essential that all the cacao we source has been done so transparently and through direct trade. Rather than having middle men from the farm to the factory, we want to be able to compensate our farmers directly, call them on the phone, and proudly showcase their process to our customers. This assures that the cacao we buy is of the highest quality and is the only way to know for certain that it's been sourced ethically.
Below you'll find our very own Hawai'i based farming operations, as well as the farms we work with.
Our most coveted Hawai'i based farms, operated by us. This means we have complete control of the process, from the farm to the factory.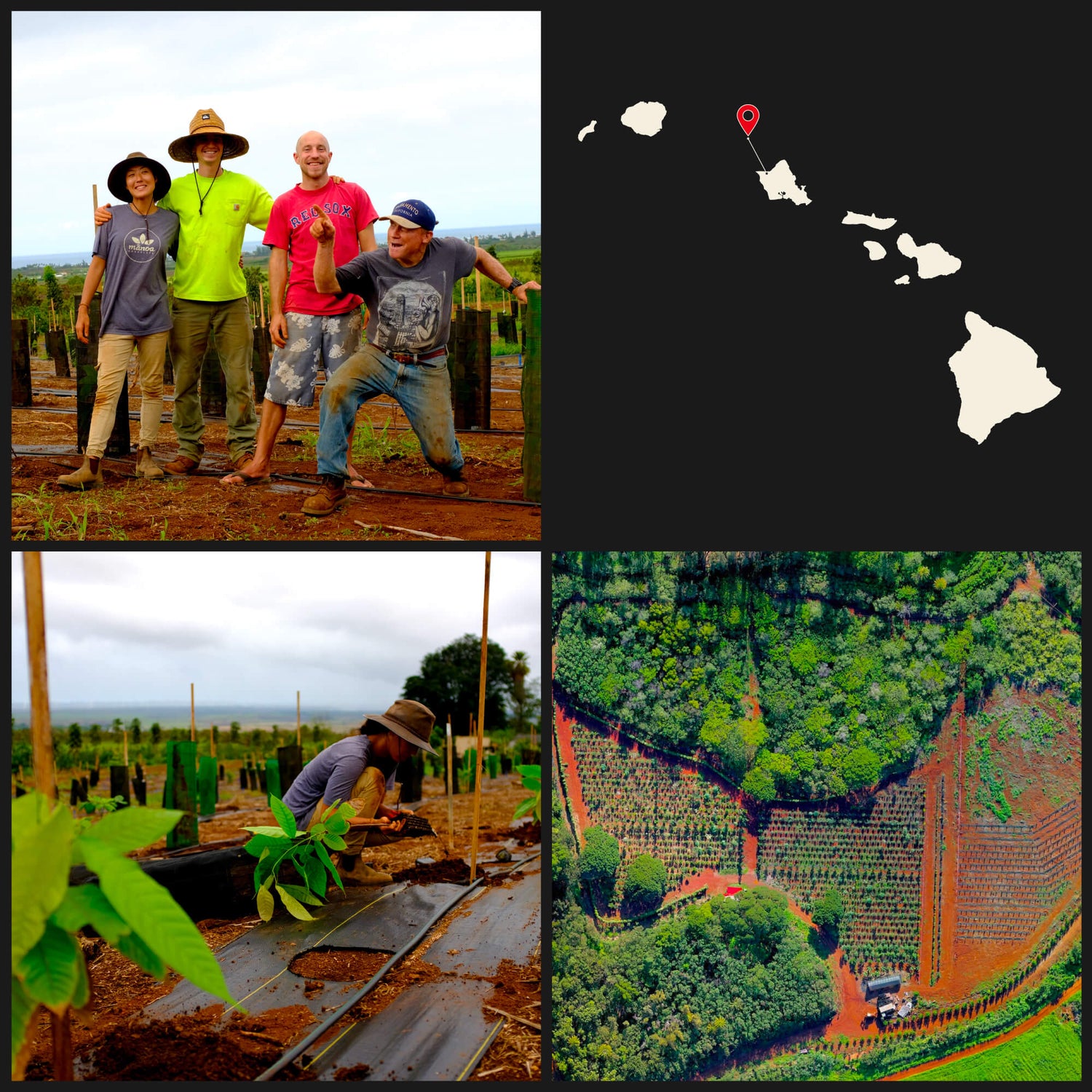 kamananui
Coming around the bend of our bumpy dirt road, the once weed infested land of Kamananui Estate opens into a lush plantation. Cacao, banana, guava, avocado, mango, and hardwood shade trees make up an agroforestry system, carefully designed to help our cacao thrive in the hot climate of Waialua, O'ahu. Nestled at the base of Mount Ka'ala, O'ahu Island's tallest peak, this blossoming cacao farm has seen exceptional growth since its beginning in 2017. 
We've been growing this orchard along with our parter Daniel O'Doherty of Cacao Services, an expert in cacao genetics, orchard establishment and post harvest handling. Establishing and maintaining a farm at this scale has taken an exceptional amount of perseverance. With no running water, electricity, housing, roads, or cleared land, we started from scratch. Progress has felt painfully slow at times, and for the first 3 years, often feeling like we'd never see a fruiting tree in the ground. Now, half a decade in, we are hitting our stride. Irrigation, electricity, housing, plant propagation, roads, people, and the rest of what's needed to thrive are in place. With 4 acres in the ground, and more soon to follow, we're on track to plant 25 acres by 2030.
Soon we'll be organizing farm tours so people can immerse themselves in this cacao forest. In the same way we do chocolate factory tours to educate people on the positive impact of craft chocolate, we look forward to doing the same with cacao agroforestry. We hope to make our first batch of chocolate from this estate in summer of 2023.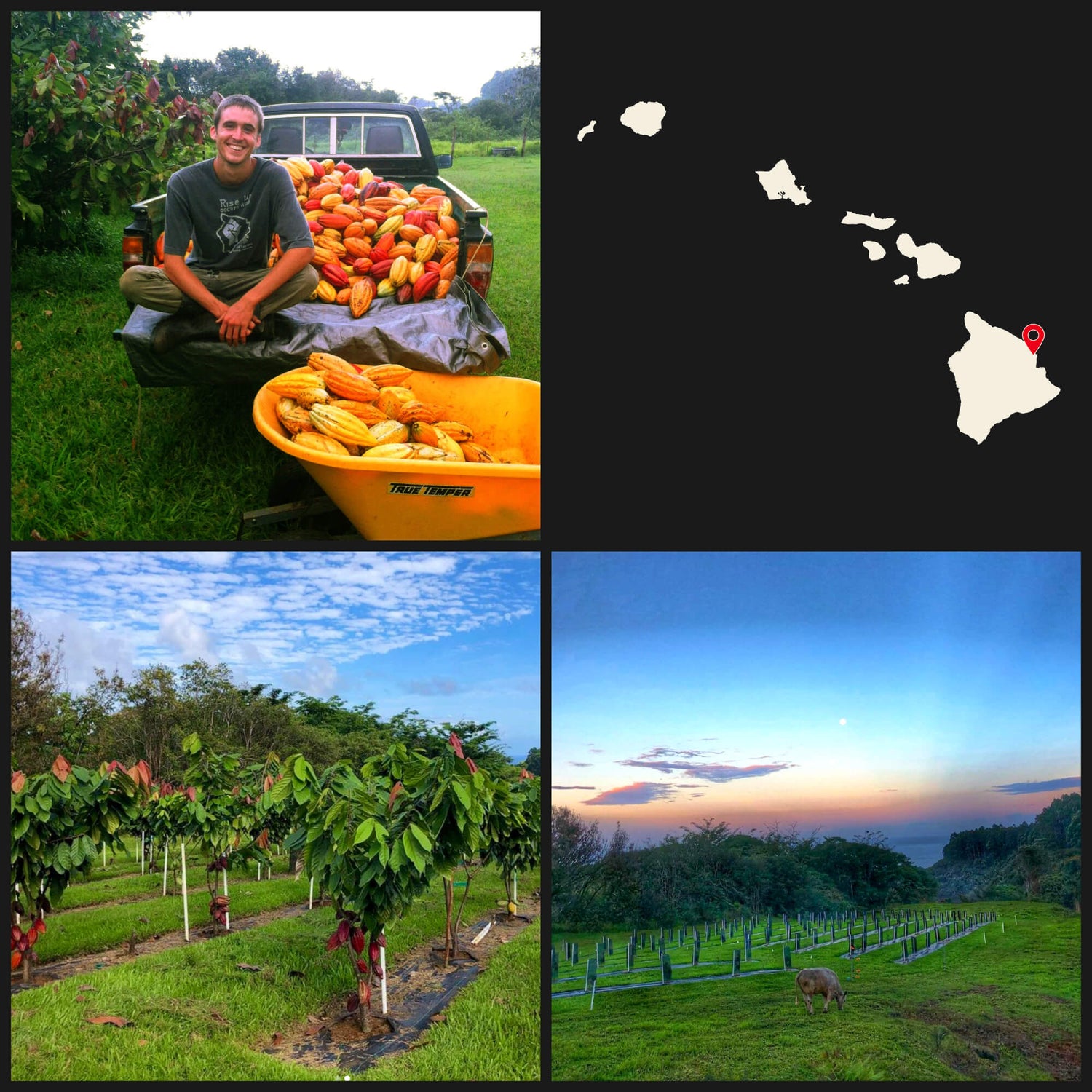 HONOLI'I (HILO)
Based in Hilo, Hawai'i (the Big Island), the Honoli'i Cacao Farm is nestled in ideal cacao growing conditions. This project is led by Colin Hart, an agricultural specialist who attained his master's in cacao from the University of Hawai'i.
Since 2019 Mānoa Chocolate has collaborated with Colin to plant out seven acres of cacao on his family property. We expect to get the first substantial harvest in 2023 and have a Honoli'i chocolate bar by summer of that same year. 
We've had the pleasure of watching these Hawaiian cacao farms grow and improve with us over the years. The hardwork of these farmers has put Hawai'i on the map as producing some of the best cacao in the world. Hawai'i based farms are still scarce, making Hawaiian beans some of the most expensive and exclusive. We are one of only a few chocolate makers to have the privilege of crafting this cacao into chocolate.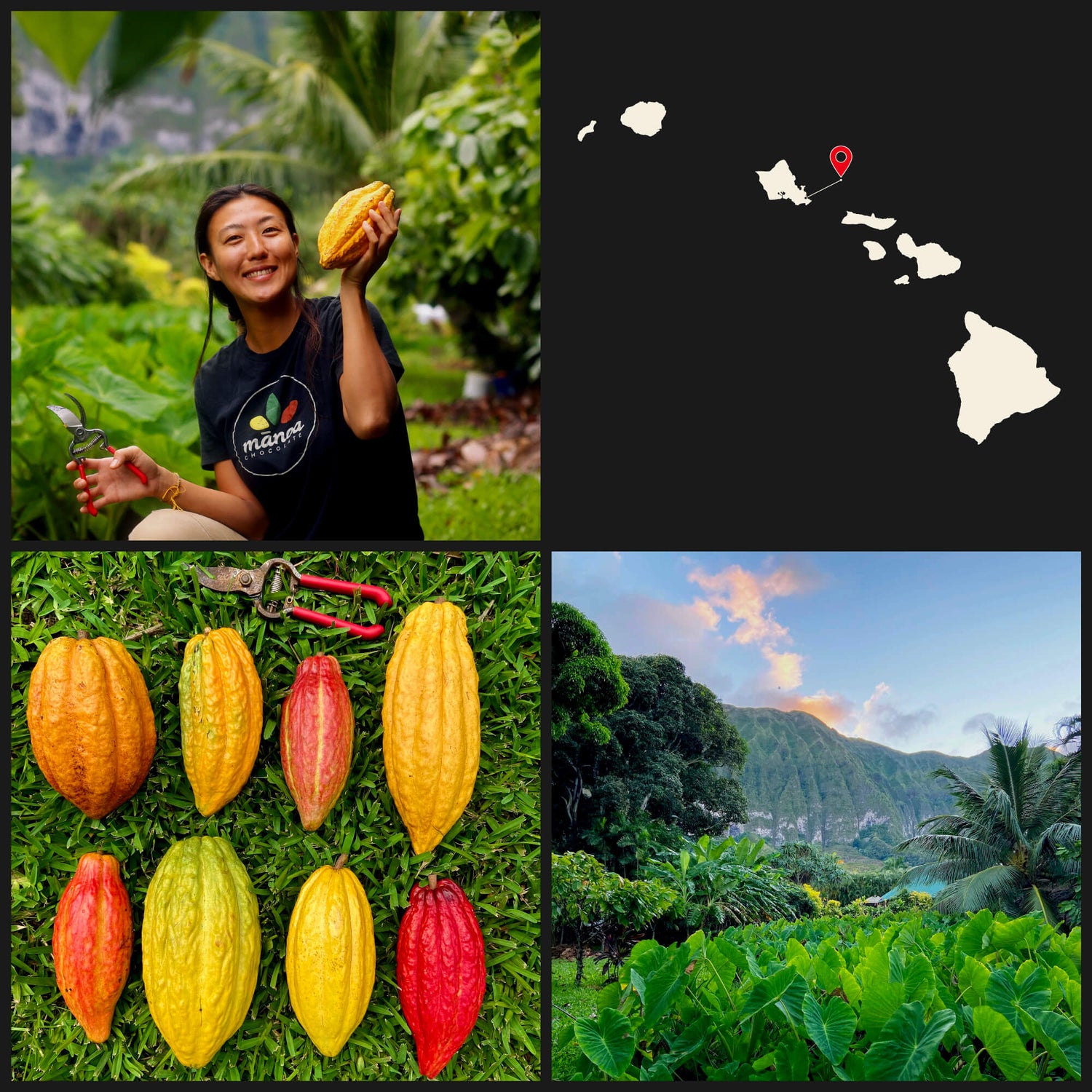 waimanalo
Waimanalo is a small town just 15 minutes from our Kailua based factory. The verdant Ko'olau mountain range towers over the largest beach on O'ahu, making for an epic combination of mountain, jungle and ocean. This region is home to three cacao farms. We've collaborated with these farms for many years, treating the trees like our own, and helping to select genetics based on fine flavor. In 2021, as the farms reached maturity, we had enough cacao to make the first ever single origin Waimanalo bar.
Even with fantastic seasons, we barely cross the threshold to bring this bar into existence. Compared to other single origin bars, this is the smallest batch of chocolate we make all year. While the scarcity of this chocolate (and Hawaiian chocolate in general) is real, we are actively working on improving the scale of Hawaiian grown cacao.
TRY THE BAR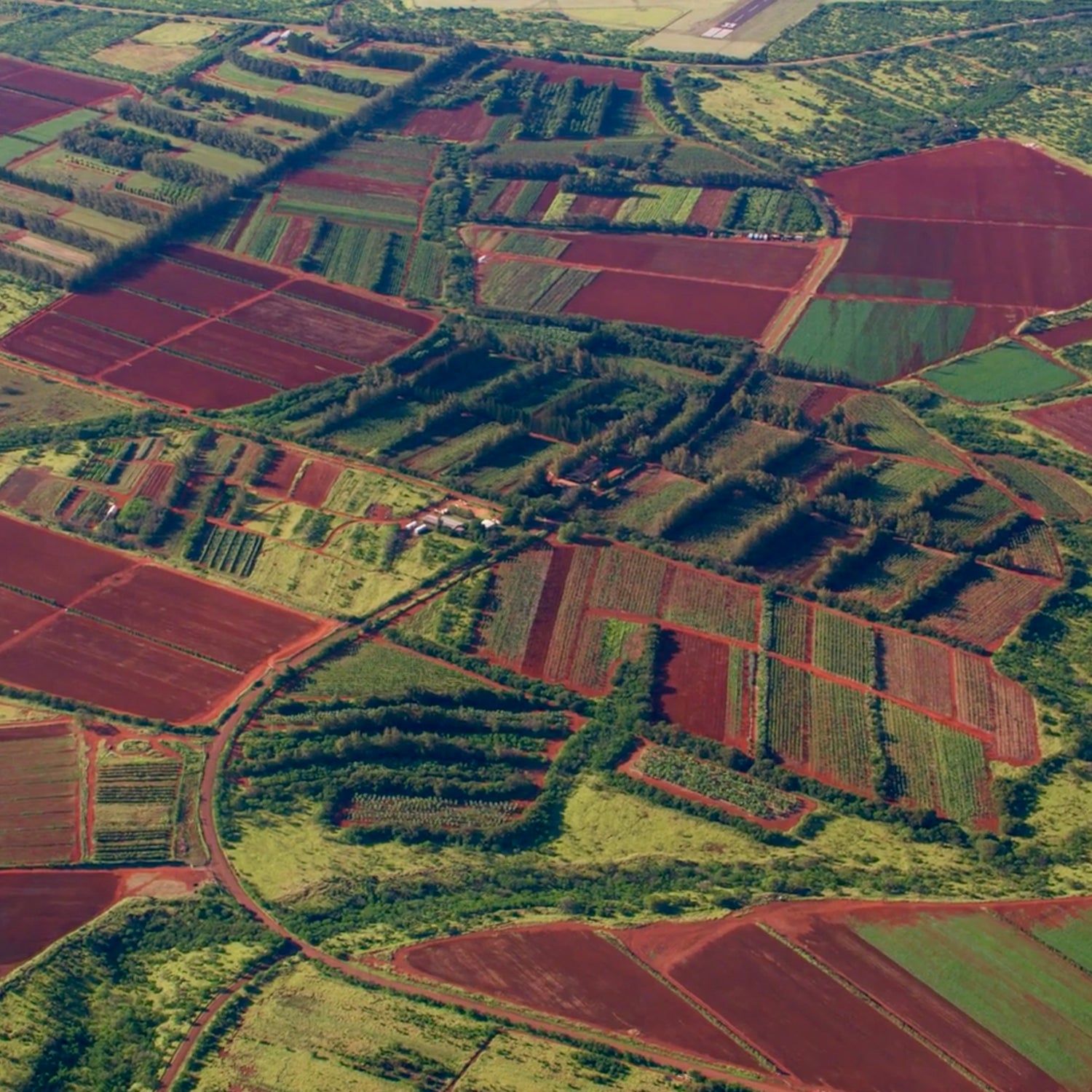 MILILANI
This diverse 97 acre farm hosts crops of breadfruit, banana, avocado, taro and 10 acres of cacao. Their first ever cacao harvest occurred in late 2019 as the trees turned three years old. The chocolate produced from this Estate is some of the most bright and fruity we've ever made.
Located in Central O'ahu, the climate of this farm is hot and dry. These conditions are technically unfavorable to cultivate cacao. The cacao tree is endemic to rainforest conditions, thriving under the canopy of other trees. With that said, proper irrgation and fertilization help these Mililani cacao trees bare the heat well. We theorize that these stressful growing conditions contribute to Mililani's potent fruity notes.
Our first ever batch of this chocolate won multiple awards, including gold for Best Dark Chocolate at the prestigious Chocolate Alliance Awards. 
TRY THE BAR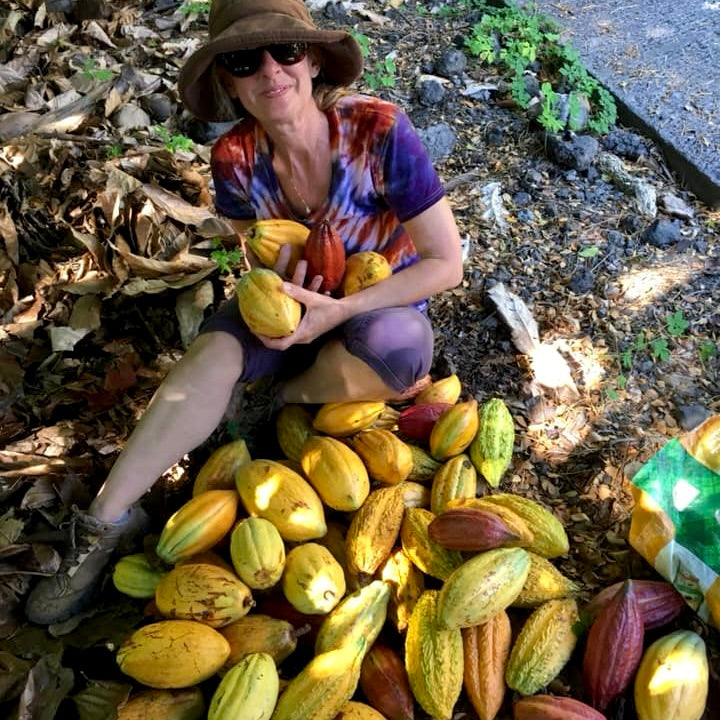 KEALAKEKUA
Located on the west side of Hawai'i Island (the Big Island), Kealakekua is hot and dry. Normally, cacao trees would be unable to survive the harsh lava field conditions, but with irrigation they thrive. The cacao of this chocolate bar is farmed, fermented and dried by the Hard Rock Gardens Estate.
TRY THE BAR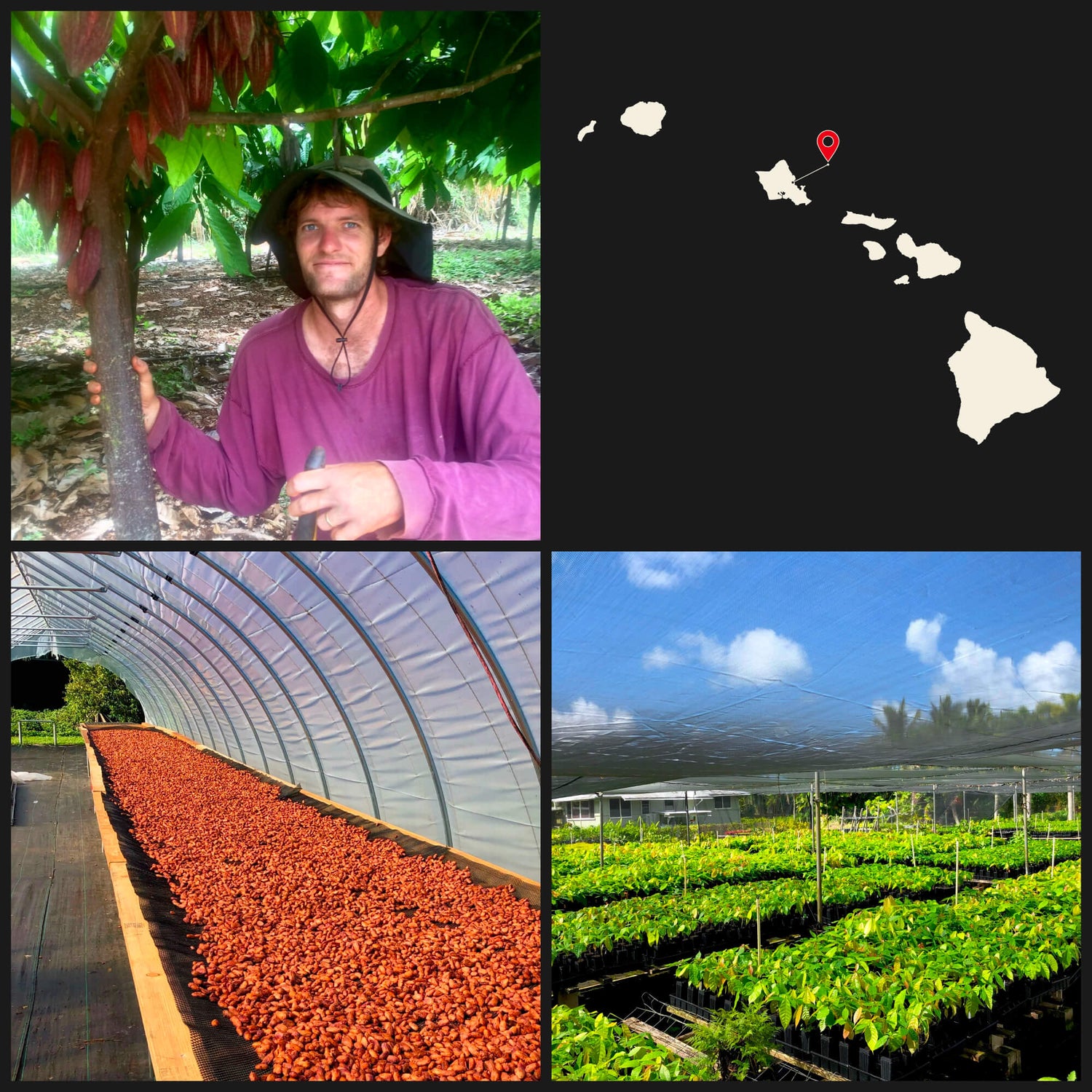 Ko'olaupoko
Ko'olaupoko represents a windward region of O'ahu stretching from Waimanalo to Kualoa. Ben Field of Mapele Fields collects cacao beans from small-holder farms across the Ko'olaupoko region. They are then centrally fermented and dried at his farm in Kahalu'u.
Field's is a Hawaii nursery man born and raised in Kahalu'u valley. For years he has encouraged neighbors and friends to plant cacao trees across the Ko'olaupoko region. In 2017 his business Mapele Fields launched new services for start-up cacao farmers where they supply everything from grafted seedlings to planting, harvesting, and fermentation support.
His hard work has paid off. Between his own farm, and the cacao he processes for others, he's Mānoa Chocolate's second largest supplier of fine Hawaiian cacao.
TRY THE BAR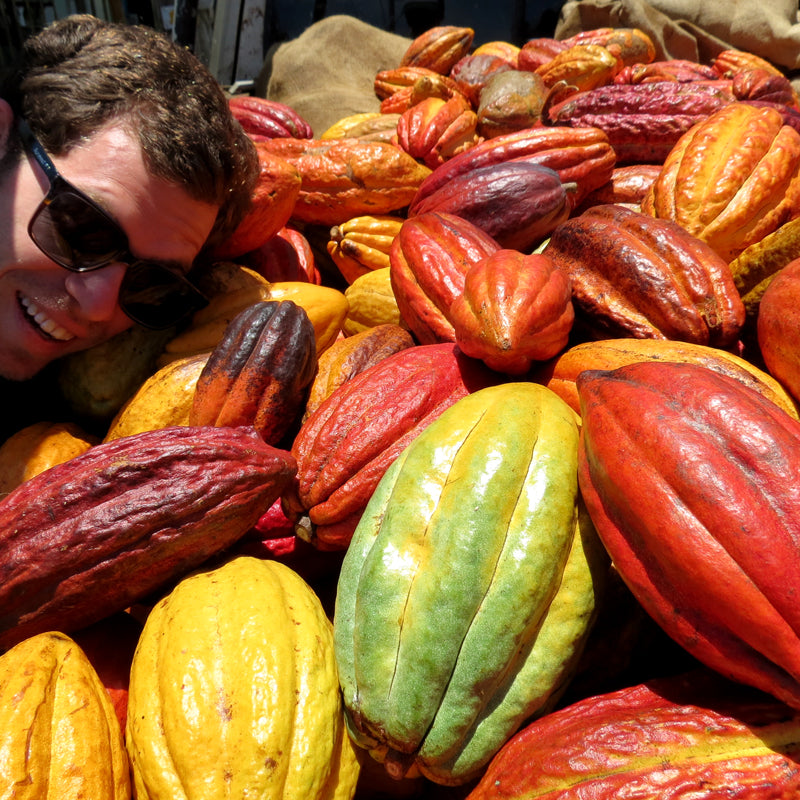 KONA
The Lika'o Kula Farm in Kona is one of our oldest sources of Hawaiian cacao. They have always been a reliable source for some of the highest quality beans in Hawai'i. In 2017 at one of the largest chocolate festivals in the world, the Salon Du Chocolat in Paris, these Hawaiian grown beans won top 15 best flavored cacao in the world.
TRY THE BAR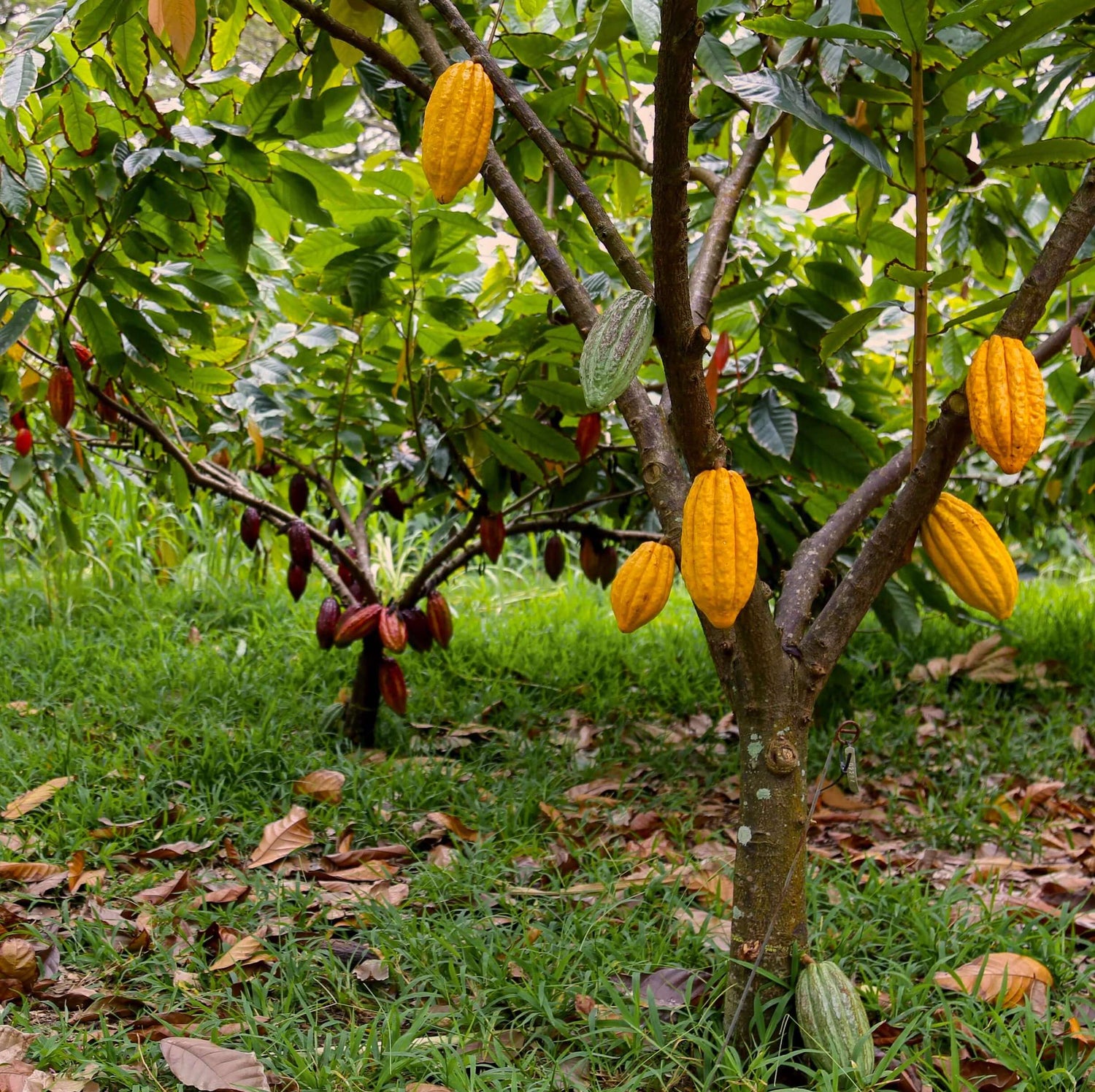 waiahole
Brothers Charlie and Paul Reppun have about 100 mature cacao trees on their agriculturally diverse farm in Waiahole Valley. Farming there since the 1970's, the brothers are community leaders for responsible resource management and local food production. We make this limited edition chocolate bar just once a year.
TRY THE BAR
We've scoured the globe for the best cacao in the world. These origins have been selected for their outsatnding missions, attention to detail, and fine flavored cacao beans.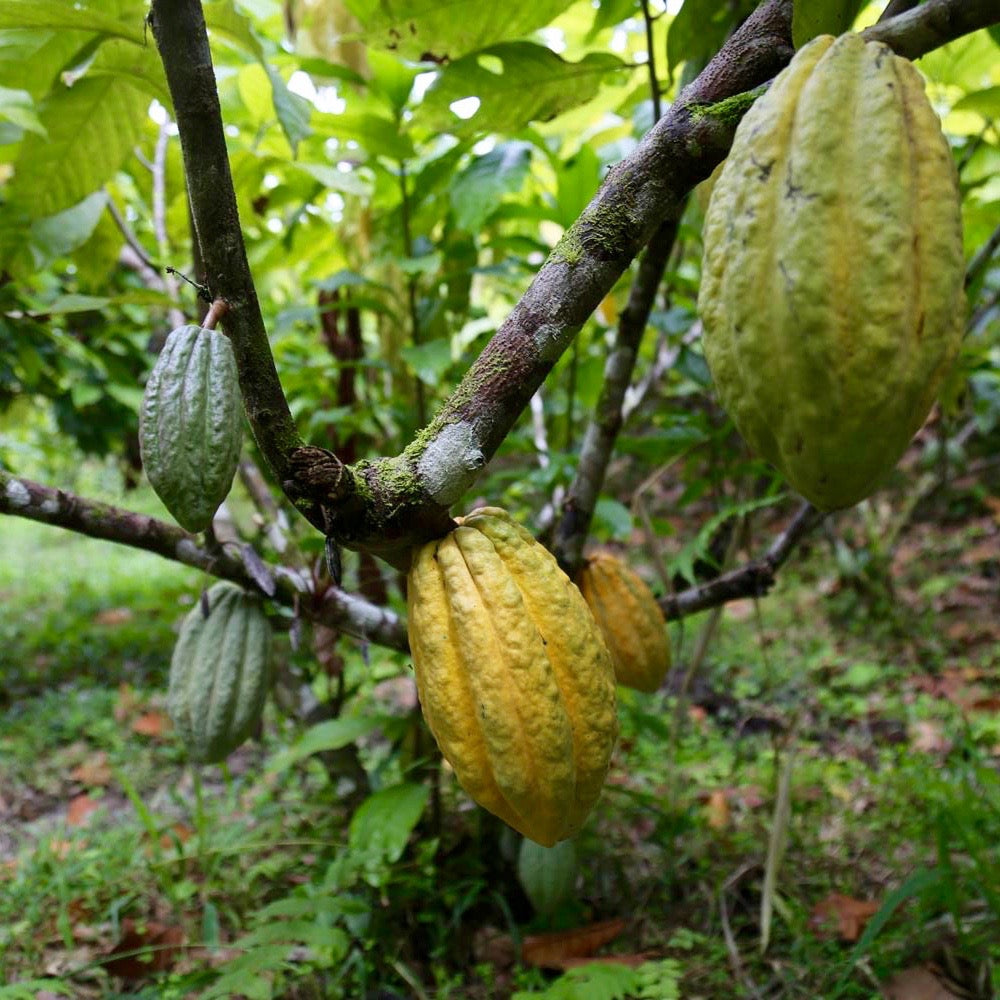 COSTA ESMERALDAS, ECUADOR
This Ecuadorian cacao farm is owned and managed entirely by the Salazar family, who have a long agricultural history in Ecuador. The Salazars reclaimed 100 hectares of cattle pasture in Atacames to establish this single estate. Working in partnership with the University of Costa Esmeraldas, they selected the best tree clones for fine flavor and high yields.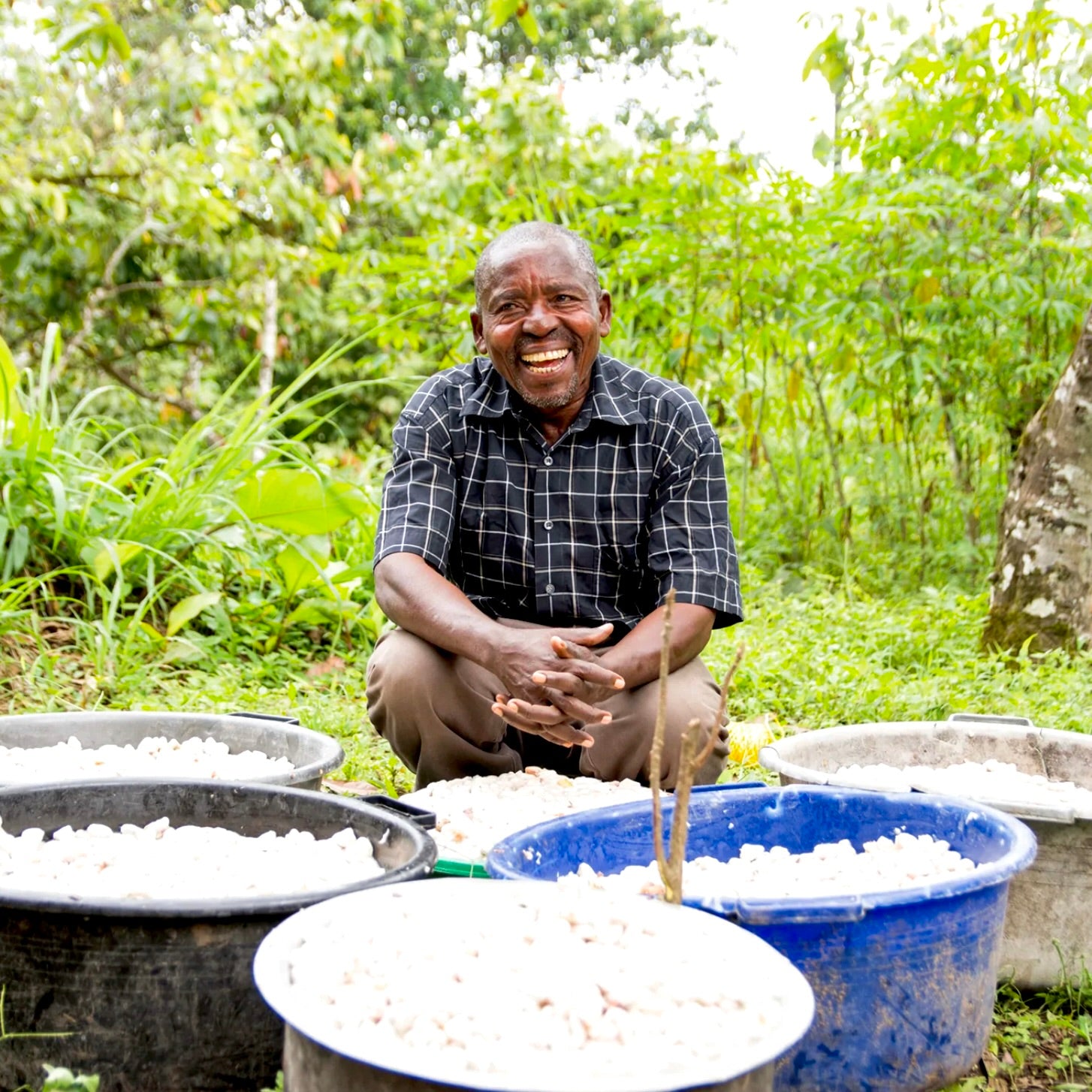 semuliki forest, Uganda
This operation, managed by Latitude Trade Co, uses certified organic wet cacao from thousands of smallholder farmers in Bundibugyo region of Western Uganda. Cacao beans are purchased at well above market rate and fermented and dried at one facility. This system of centralizing post-harvest handling helps to improve quality and consistency across harvests.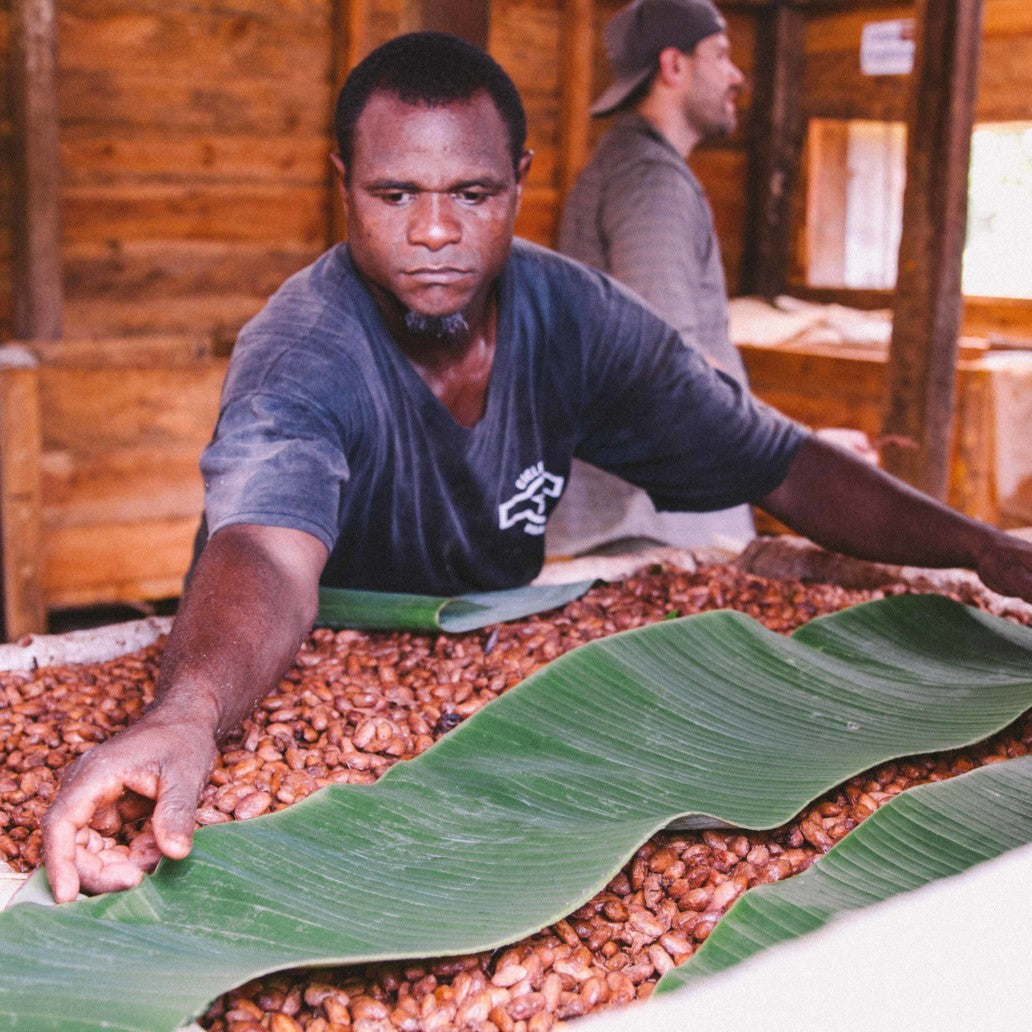 Zorzal, dominican republic
From their 1,019 acre bird sanctuary in the northern mountains of the Dominican Republic, Zorzal produces organic cacao while creating conservation solutions. Through their reforestation efforts, they've transformed hundreds of hectares of baron pasture land into a thriving forest. Set under the shade of diverse hardwood and fruit trees, they plant cacao trees carefully selected for their flavor characteristics.